Health Spa in Phuket



* The Thai cooking school at the Kata Beach Spa Resort in Phuket will be closed for redecoration until Christmas 2011

A HANDS ON EXPERIENCE
Take a morning or afternoon out from lazing on the beach, and learn to cook authentic Thai food at The Phuket Health Spa School of Thai Cookery.
Preparation

Executive chef Ngamta Janchay will guide you through the ingredients, marketing, preparation and cooking processes involved in the creation of a sumptuous five course lunch or dinner.
Cooking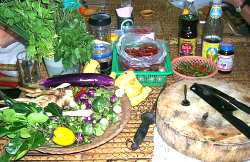 Daily changing menus give the professional chef or serious amateur the opportunity to participate in multiple courses and the wealth of menus and ideas provided will enable you to impress family friends or customers with superb Thai dinner parties. Each day's menu includes a Starter, Spicey salad, Thai traditional soup, Main course and Desert plus the knowledge neccessary to prepare the various curry pastes, sweet and sours etc….

Choices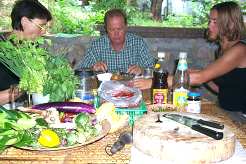 All preferences whether meat, fowl, seafood or vegetarian are catered for and a maximum number of four students ensures total hands on participation. We dont "show" you how to cook Thai food, we teach you.
Bookings and opening hours.
Courses run from Monday to Friday, 2pm to 6pm with dinner.

Menus, Cooking Manual and certificates are provided on each course. * Summer Cooking Seminars at Phuket Health Spa Thai Cooking School
Ta's cafè and restaurant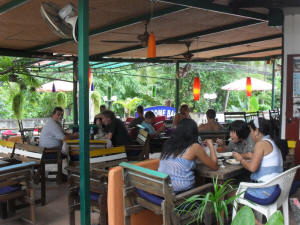 Ta's Cafe' bar and Thai food restaurant has a variety of Thai dishes and supplemental foreign food…
Take a morning or afternoon out from lazing on the beach and enjoy our Thai cooking in "Ta's cafe' bar & Thai restaurant" which many visitors describe as "the best green curry" on the Island or "Tom Yum Kung" geeezz now I have had this for 10 days and still want it again…. 🙂
Ta is chef and started in Papa's & Mama's Bangkok restaurant when she was 4years old and now has a lot of experience and know-how to make excellent Thai food with fresh day to day vegetable's, meat, seafood and an international breakfast of American, continental, English and our own healthy Kata café' breakfast.
We also serve homemade burgers, sandwiches and spaghetti dishes.
Happy hour from 4-6pm usually attracts quite a few people to sit and enjoy the afternoon after-beach mountain view, sea breeze, good music and a cold beer, a glass of white Chardonnay or red Merlot with fresh home roasted peanuts…
The open-air pavilion can seat up to 50 diners. Wherever you sit, the restaurant with its soft lighting has a magical warm feeling, light breeze, mountain view and peek of Kata Beach.



Relaxing at the Spa's Restaurant